Frank's Landscaping LLC builds Trex and composite decks and porches. We have state of the art design software that allows us to provide our clients with 3D renderings before the build begins. Our framing and finishing crews have the experience and precision needed to create a one of a kind deck. From the concrete footings, to the framing, and low voltage lighting, everything is performed in house. All our decks are built to stand the test of time! We use top quality materials and create spaces that our clients will enjoy for years to come.
Deck Framing
Frank's Landscaping believes the most important part of any deck is its framing and concrete footers. We always oversize our concrete footers and put rebar support in them. Then, we go a step further and upsize all deck framing members, posts, and bolts. We do this to provide our clients with a deck that is built to last!
Composite Decks with Vinyl Railings
Frank's Landscaping aims to provide our clients with a superior product. We do this by using composite or Trex decking. Then, we typically use vinyl or painted aluminum railings to provide a virtually maintenance free deck. Finally, we complete our deck packages with low voltage lighting and custom deck borders. Using these materials and techniques results in an amazing finished product.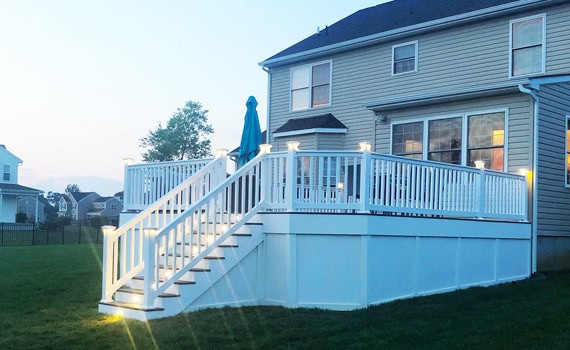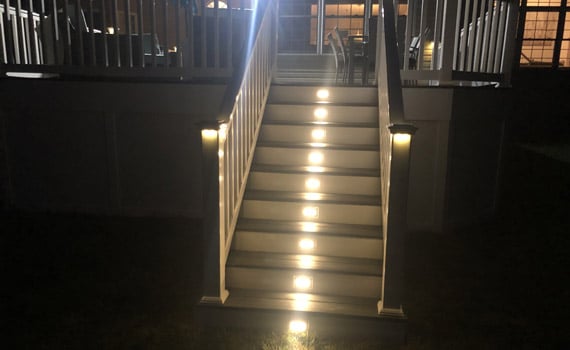 Deck Landings and Porches
Frank's Landscaping has the experience to handle all aspects of a concrete construction build. From curb & gutter to 1,000's of linear feet of sidewalks for an entire development. We are a trusted resource for all your concrete needs.
Our Deck Services Include:
Concrete Footings
Framing
Composite Decks
Trex Decks
Vinyl Railings
Aluminum Railings
Steps
Porches
Pergolas
Low Voltage Lighting
Outdoor Kitchens
Seating Areas